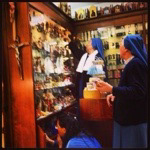 The market for Kitsch religious tat is now purely ironic according to nuns in Rome.
The nuns who have been running religious tat shop at the Vatican for 2014 years said:
"We only sell our 
Jesus
 and 
Mary
 memorabilia to people who think they are being ironic these days. People who are actually religious tend to just share a picture of Mary on Facebook or set a reminder on their iPhone to pray.
"Most of this stuff ends up in trendy atheist 
North London
 homes, and the more ridiculous the designs, the more they lap it up.
"The ultimate irony of course is that the profits from this stuff pretty much bankrolls the whole 
Catholic Church
.