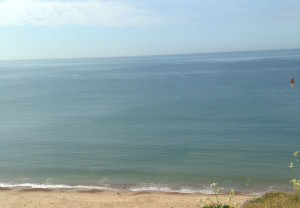 The first Bournemouth submarine festival got off to a successful start according to town hall tourism bosses.
The three day festival which opened yesterday and continues throughout today and bank holiday Monday kicked off with a magnificent sub-aquatic display in Bournemouth's Poole bay.
The display by the 'Upholder class diesel-electric hunter-killer display team' potentially wowed crowds with underwater formations of hearts, and heading towards each other as if to collide, then seemingly narrowly missing each other at the last moment.
And the action continued above sea level momentarily as periscope walkers performed in breathtaking acts of bravery.
But the star of the show was the World War I K class submarine, powered with oil fired steam turbines.
Tourism chiefs said: "This is the first event in the world of its kind, showing yet again that Bournemouth is an innovative tourism destination. We expect that it will attract millions of extra visitors bringing the billions of cash needed in our local economy. Which may even offset the cost of putting the event on."
As the first of the three thrill-packed days drew to a close, dazzled shore-based punters were left speechless, with many declaring that the event defied belief.