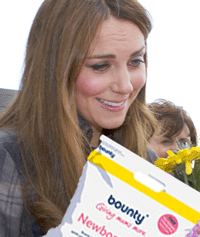 The first photograph was taken early yesterday evening of the new royal prince.
The Lindo Wing Maternity Unit Bounty Lady took the photo within minutes of the birth, having joined the the Queen's gynaecologist, Alan Farthing, as he undertook initial postnatal checks on the Duchess in the moments after the birth.
The royal press officer initially intervened, however it was explained to him by the Bounty lady that the pictures were required for security purposes, saying in a loud voice, "you want the baby to be safe don't you?"
The Bounty lady then signed the Duchess up to her database in exchange for a Bounty pack, to which an exhausted Kate agreed in the hope the lady would just go away.
The Bounty lady said:
"There are forms in here that you need by law, and this is the only place you can get them.
"Basically, if you don't sign up the baby probably wont legally exist."
New dad Prince William said " the pictures are really cute, I think will order some key rings"